In Plain Sight: Part IV
March 24, 2021
After her freshman year at Emmanuel College in 2015, Danielle Agrella went home for the summer with a new faith community. She soon found out however, that the Boston Church of Christ had a deeper history than she thought. 
Researching the Boston Church of Christ, Agrella and her mother found reports of the years of the controversy surrounding the Church and its campus ministry, currently going by the name 'Alpha Omega.' 
The research dug up what academics, mental health professionals, higher-education administrators and former members alike describe as predatory practices, psychological manipulation, and destructive behaviors. With these new revelations, along with what Argrella said was a near-constant feeling of guilt for her sins, she decided to leave the Church.
Cutting herself off from the Church meant cutting herself off from the friend group that she spent most of her time with, from services on Sunday and Wednesday, Bible Talks, Bible Studies, and Devotional nights. 
Former members of the Boston Church of Christ, as well as other International Churches of Christ (ICOC) congregations and experts, told the Voice that members are even encouraged to live with one another. 
Chris Lee, the executive director of REVEAL, an organization whose purpose, according to its website, is to "provide accurate, detailed and complete information about [ICOC] beliefs and practices," explained that fellowship and being in an environment that is, "good for one's faith" is the explanation members get when pushed to live with one another. 
A former member of an ICOC congregation located in the southeast United States said that disciples being encouraged to live together added to the feeling that "someone is always watching." 
Due to fear of character assassination and repercussions that speaking with the press could have on his family, the Voice granted this former member anonymity and will refer to him as Clem.
Clem said that he questioned who he would have and what would be out there for him without his congregation, a consideration that kept him a part of the Church long after beginning to think about leaving.
Clem explained that said that as a member, individuals are expected to share with their discipler any sins they committed prior to baptism, any sins they continue to commit, and additionally any sinful thoughts they may have. 
"They essentially use shame and guilt as a means to convert," Clem told the Voice.
Guilt and shame are feelings that Simmons student Abrielle Cunningham said she felt while involved with the Boston Chruch of Christ.
During the first semester of her freshman year in 2019, Cunningham said she was approached by two students with an invitation to study the Bible. She began to attend weekly Bible Talks which according to Cunningham took place in the downstairs dining hall on Simmons' academic campus, the Fens.
From there she began her discipling meetings, attending Church on Sunday, Midweek worship on Wednesday, and Friday night Devotionals. What started as a one hour per week commitment, according to Cunningham, quickly turned into five or six days of her week spent with the Church.
Cunningham echoed what previous members had touched upon– encouragement to spend as much time as possible with the other disciples and an emphasis placed on her eventual baptism. 
Cunningham recalled instances of returning to her dorm after Church activities in tears due to the emotional stress of being told that her loved ones could not be saved unless they were baptized. 
"That really scared me because I was like, What about everybody else? What about all my loved ones, my friends?" Cunningham said. "They told me that Satan was working through my mom when she told me not to join."
Leading up to Cunningham's baptism, she said that her discipling leaders told her that she would have to confess her sins to them before getting baptized. 
"They gave me a week to prepare for the confession," said Cunningham, noting that she was told she could prepare by writing out a list. 
The late Reverend Robert Watts Thornburg, former Dean of Boston University's Marsh Chapel, published a document in 1988 with his observations of how the Boston Church of Christ was negatively impacting students negatively. He wrote about the Church, "constantly requiring members to share all of their deepest secrets of the past on the theory that the discipling partner can somehow remove those so-called stains of guilt."
Thornburg, other experts, and some former members including Clem report that the awareness of someone out there knowing all of their sins can be used as a way to keep people in the Church if having thoughts of leaving.
Because Clem was raised in the Church and left when he went to college, the awareness that someone knows all of his sins hung over his head when grappling with the thought of leaving. It still does, which is a contributing factor as to why he didn't want to be identified in this article. 
Once baptized, members are expected to recruit other people to join the Church. Clem noted that from his experiences in the Church until 2015, faithfulness is measured by how many people each member can bring into the Church, an expectation supported by Thornburg's 1988 article.  
Cunningham echoed this, saying that she was told by her disciplers that once she was baptized she would be expected to get other people to join.
Although Clem felt that he was doing wrong by recruiting people into a faith group where he himself felt uncomfortable with the practices he saw, he continued his involvement due to his fears of character assassination and being cut off from Church friends.
"If I'm not saving people, what am I doing," Clem said, citing that it was instilled in him that it was his purpose to convert others.
The Voice reached out to Church leaders and current members of the campus ministry to better understand the Boston Church of Christ's current practices and the changes in the Church since the allegations of spiritual manipulation and controversy of the eighties and nineties. Multiple requests were made by email, phone call and social media for an interview or statement.
After two phone calls to the Church in order to confirm whether or not the email requests had been received, the Church called back to say that they had gotten the requests.
When asked why requests were not acknowledged, the person calling from the Church, who refused to give their name on the record, said that what is said in the media misrepresents the Church, so it's easier to ignore requests than to decline.
Asking for clarification, the Church declined to provide a statement or interview for this series.
The most recent public acknowledgment of wrongdoing in the Church took place in 2003, with subsequent reporting from the Boston Globe and the Chicago Tribune.
In 2003, Henry Kriete, a leader of the London Church of Christ, wrote an open letter about the problems he had witnessed inside the International Churches of Christ. 
In response to the letter as well as a push "by some who had long resented his leadership style," the founder and leader of the ICOC, Kip McKean, stepped down from his position of leadership.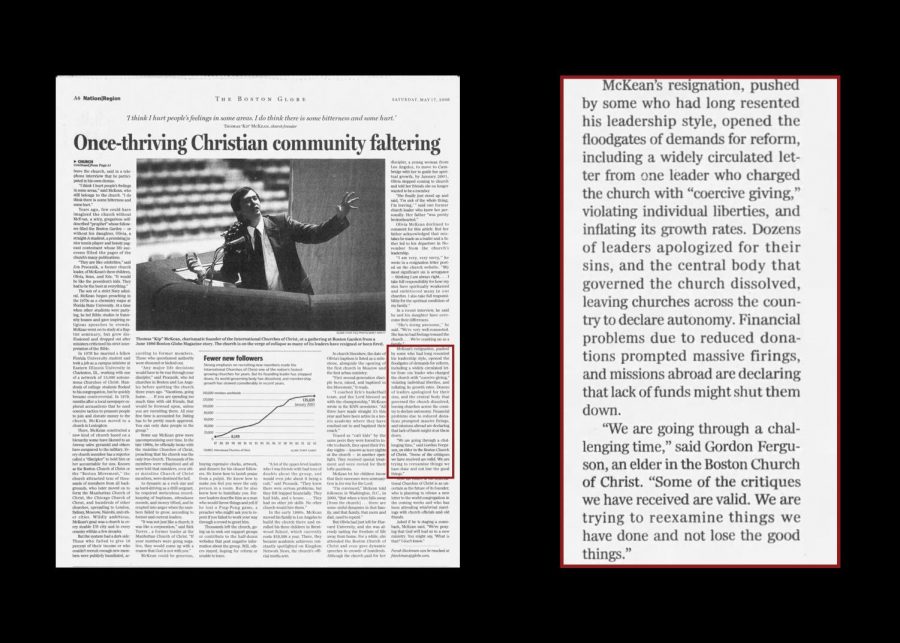 Lee confirmed that the response from leaders in the Church to the Kriete letter is the most recent public acknowledgment of wrongdoing on behalf of the Church. However, Lee said that the ICOC and its congregations did not specifically acknowledge the ways in which discipling can be problematic. 
The Boston Church of Christ currently tells potential members and critics that after McKean's resignation, the Church reformed the practices that garnered controversy in the 80s and 90s. However, after publishing the first three installments of this piece, current Simmons students who have interacted with the Church have come forward and shared experiences similar to those of the past. 
After Cunningham cut ties with the Church in December 2019, her mother called Simmons to alert them about the group's presence on campus. While she doesn't know exactly who or what department her mother addressed these concerns to, she was told that there wasn't anything they could do about the Church due to the complexities of what could be considered as religious discrimination.
Former Dean of Students Susan Antonelli told the Voice in November prior to her planned departure that she wanted to make it clear that while she recognizes that the Boston Church of Christ has a history of predatory practices, that she also recognizes the importance of freedom of religion, and that Simmons strives to be a diverse and accepting environment.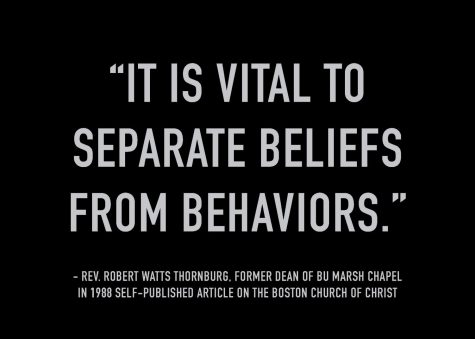 Simmons' stance reflects what Thornburg wrote in a self-published 1988 article that a university campus is the "very last place in the world" where ideas or religious beliefs should be suppressed. However, when faith intersects with repeated predatory practices, Thornburg wrote that "decisive action" can be taken in order to protect students from harmful behaviors. 
"The University has both the right and the obligation to protect students from false and deceptive activities that harm students and threaten the full and healthy development of learning and faith on the campus," Thornburg wrote.
With the recent arrival of Dr. Renique Kersh as the Vice President of Student Affairs, Kersh and her team will have to contend with a faith group already enmeshed in the Simmons community. 
"We'll always, of course, do our best to protect students from predatory organizations, to the extent that we know that they exist," said Kersh in a March 2021 interview with the Voice, encouraging students who are, "engaged in these conversations, or they know that this is happening, [with the Church]" to come forward and alert Student Affairs.
When the role of director of Spiritual Life was eliminated in August of 2019, the jurisdiction of the Office of Spiritual Life has moved back and forth from Student Affairs to the Office of Organizational Culture, Inclusion and Equity, making it unclear for students to know where to report concerns with faith groups.
Kersh said that Spiritual Life once again falls within Student Affairs, and will remain in Student Affairs, and added that she is looking to identify gaps and create an organizational structure for the department.
While Kersh is still analyzing the best path forward for the structure of Spiritual Life, she said that she is thinking about how the institution can "make sure that its clear to students that they can find a home within our Spiritual Life department"
When asked who students should go to in the meantime with concerns of destructive faith groups, she offered herself as a point of contact.
"I know how important this issue is, and I want students to feel like they have a direct connection to me if they have specific concerns, and it's one that we want to be able to address," Kersh said. "Students can contact me directly at the moment if they have concerns, and in fact, I encourage them to."
With the unawareness of the Church's presence and influence on college campuses,  Cunningham noted the importance of having conversations about the Church and people's experiences in order to spread awareness to as many students as possible. 
"It could happen to anyone, and I think it's really important," to talk about, said Cunningham. 
If Simmons and other universities cannot ban faith groups such as the Boston Church of Christ and Alpha Omega, Cunningham said "the only other way to get people to know is through talking about it, and hopefully getting more people to listen, will– I'm not sure if I would say be enough for students, but it would be more than what a university could do, in my opinion."