In Plain Sight: Part III
March 19, 2021
As stated at the beginning of this series, the Voice knows the identities of the Boston Church of Christ's campus ministers, who are a married couple. Our editorial team has decided to not publish their names in this series.
For clarity, we will refer to them as H for the husband, and W for the wife.
The kindness Danielle Agrella felt in 2015 from the two Simmons students who invited her to study the Bible, and the new group of friends she made through the Bible Talks and Church events is something that she now considers to have been love bombing and manipulation.
Before coming to that realization, however, Agrella said she felt a sense of belonging with the Church during her first year as a student at neighboring Emmanuel College, allowing her to be so trusting when the Church gave her an illusion of transparency about its past controversies.
Agrella said that her discipler told her 'you're gonna find all this old stuff if you even look it up, I don't want you to be worried about that.'
"I completely fell for it," said Agrella. "I never once researched it. Never."
Agrella was baptized towards the end of the spring semester of her first year, 2015.
Before going home to New Hampshire for summer break, Agrella had a final group meeting with her discipler, note-taker, and campus minister. She said the group warned her that when her friends and family found out about her baptism, they may make comments saying that the way she was choosing to practice her religion was wrong. They told her this was called "persecution."
"They even said your family might turn against you on it," recalled Agrella. The three even suggested she not tell her friends and family about her involvement right away to ease them into it in a way that might make them want to become "disciples" themselves.
Agrella says that the campus minister, W, told her "let them notice how great you've been, how awesome you are, and how changed you've been, in a good way." By returning home and being "the best daughter and the best sister and the best friend that you've ever been" Agrella was told that the people around her would become curious about why she was so happy, making them more willing to learn about the Church."
W stressed the importance of reading the Bible every day, and doing everything possible to "stay with it," Agrella recalled. Being at home for the summer she wouldn't have the Bible talks, services, discipling meetings and the plethora of other Church events that took up her time and kept her focused on her faith.
"They pretty much would check on me at least once a week and ask like if I'm still doing all these things," said Agrella. 
She was even connected with an International Church of Christ congregation in New Hampshire in order to continue her involvement with fellow disciples.
Through Agrella's interview and Alpha Omega's social media posts, the Voice confirmed that W was involved in the discipling of a Simmons student who was baptized into the Boston Church of Christ towards the end of summer in 2020.
The Voice will refer to the Simmons student as "Kay" because of her anxieties about misconceptions from her family and friends outside of the Church, and repercussions from her peers within the Church if her name is disclosed.
While Kay was struggling through personal issues along with the feeling of having no control over life, a sentiment exacerbated by the pandemic, a member of the Boston Church of Christ, also a Simmons student, reached out and asked her if she would be interested in studying the Bible.
When the spring 2020 semester came to an end Kay began virtually studying the Bible in order to have something that could give her structure and something to look forward to.
"I feel like more than anything, it just like, gave me a community of support, in a way, which I didn't necessarily anticipate," said Kay. "I don't know, it's just, it's really encouraging the way that people are there for each other and care for each other." 
Each week, Kay met virtually with the Simmons student who invited her to study the Bible, as well as another Simmons student. 
Although Agrella said W would occasionally attend the weekly meetings in the basement of Evans Hall in 2015, what sets Kay's experience apart from the others documented, is that W took part in her discipling sessions.
While W and the two other students all took turns leading the weekly studies, Kay said that they were always focused on her own learning, which led to her baptism.
"I don't know if this is the case for most people, but for me, I sort of felt like, in a way, it was the next step," Kay said. 
"It is a very personal decision for everyone. But for me, like I didn't really dwell on it too much," noted Kay.  "I did the studies, and then it's like, 'Okay! Now you get baptized' type of thing."
Towards the end of the summer, the other Simmons student picked Kay up to baptize her, and they drove to a beach in Boston. W watched on as the student who initially invited Kay to study the Bible joined in by video chat.
Subsequent requests made to Kay for interviews were avoided. Current members of the Church and its campus ministry, Alpha Omega, declined to give a comment or be interviewed, while some did not respond to requests for interviews. 
Agrella said returning home to New Hampshire for the summer is when she was able to realize that feeling the need to share her 'sins' with fellow disciples "wasn't a healthy sort of confessional."
"I just felt guilty about doing pretty much anything," said Agrella, adding that she felt as if the Church attempted to control her personal choices.
This manifested for her through feeling "forced" to only date other people within the International Church of Christ and noticing a negative attitude about how her intensive major within the STEM field would take away from time spent with the Church. 
 The feeling that the Church controls a disciple's life is not new.  
First Principles, (also called Making Disciples,) is a step-by-step study guide for discipling, and states that in 'The Church' study, "disciples in the Church are committed to dating/marrying only other disciples (in the Church,)" 
International Church of Christ Congregations across the nation, "all use some variant of First Principles/Making Disciples," that has had little change since their inception in 1967 according to Chris Lee, the Executive Director of REVEAL, an organization whose purpose, according to its website is "to provide accurate, detailed and complete information about its (the Churches) beliefs and practices."
Former members of ICOC congregations across the country told the Voice about how ministers and church elders set students in the campus ministry up with other disciples who are, "equally yoked."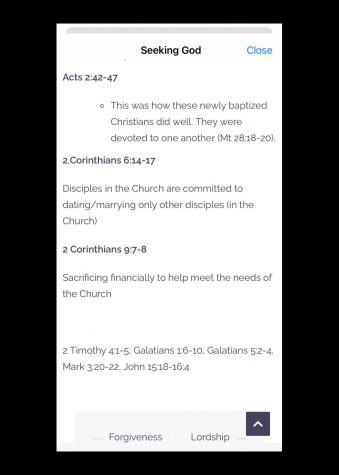 The version of First Principles currently in use by the Boston Church of Christ was retrieved through the free ICOC NE phone app, which can be found in the Apple App Store, as well as the Google Play Store.
There is a less detailed version of First Principles, or the "Bible Study Series" on the website of the Boston Church of Christ as a pdf. document. The document on the website is only accessible with a mobile phone. 
During her summer vacation, Agrella said her mother began to notice the guilt and sadness that was enveloping her due to her constant awareness of 'sin.'
She said through her mother's research they discovered years of reported attempts of the church separating students from their families. 
 "It all started getting put together," Agrella said.
Deciding to cut ties with the Church during her summer at home, Agrella said that she deleted "80 to 100" Facebook friends and Instagram followers that she had gained through her involvement with the Church and its campus ministry. 
"They were pretty persistent, still messaging me randomly," said Agrella while noting that she would ignore the messages, or respond saying that she wasn't interested in continuing. 
Church members have spoken about techniques they use to keep disciples in the Church at the International Church of Christ International Campus Ministry Conference (ICMC,) held in Cincinnati, Ohio, in July 2018. 
Audio recordings from the conference were posted to SoundCloud by 'Disciples Today,' the official media outlet of the International Churches of Christ. 
H begins speaking just after the 23:25 mark. 
In the recording, H spoke of an adult member of the Boston Church of Christ knocking on a student's dorm door in order to "get ahold of her," as she was deemed to be one of the "weakest" members of the campus ministry by ministers and Church Elders. 
While he did not say at which school in Boston this took place, during his four minutes of speaking H explained that getting members of the Church's marrieds ministry and professionals ministry to spend time with the "15 weakest" students was proving to be effective in keeping students from "falling away," aka leaving the Church. 
According to what H said in the recording from ICMC 2018, during monthly dinner meetings with Church elders, ministers, and a "handful" of people from various ministries within the Boston Church of Christ, dinner guests determine which students are at risk of leaving the Church.
"We have a whole spreadsheet where we have the person's name, where they're at, and then we come up with a plan for them until the next month," said H in the recording.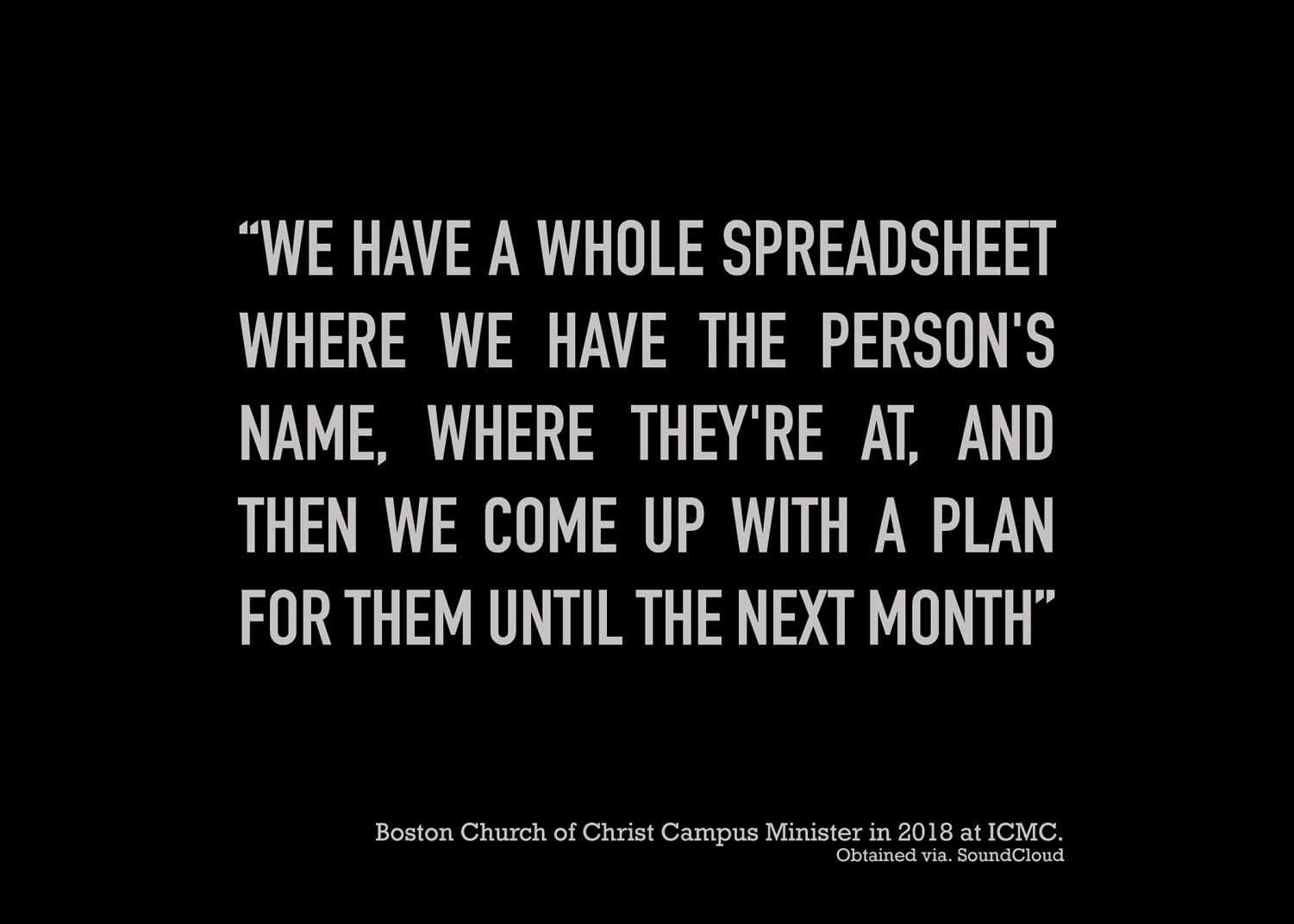 After Agrella left the Church, the fear of returning to Boston and being talked back into the Church was so intense that she said she considered transferring.
"I think the hardest part was coming back to campus and being afraid to run into them because I'd definitely have to deal with that," said Agrella. 
The first three months after leaving the Church, Agrella said that her mind was filled daily with guilt about her sins. For the next year "randomly thinking about it" or seeing someone from the Church would cause a visceral reaction. 
"My heart would race and I'd be so nervous they were going to confront me," said Agrella. 
Sitting outside on a bench during an event on the Emmanuel campus, Agrella said that she saw someone who was a member of the Church who she was once close with approach a student on the quad.
After the member of the Church walked away, Agrella said she went over to the student and asked if she had been invited to go to a Bible group.
When the student said yes, Agrella shared part of her experience and offered a word of warning.
Due to the trauma that Agrella faced and how difficult her situation was for her to talk about, it wasn't until 2018, her senior year, that she said she told an administrator at Emmanuel what had happened. 
"I don't know if she ended up doing anything with it. But I told her all about it," recalls Agrella. "She had heard of [the Boston Church of Christ] already."
The time that it takes for people who have left the International Churches of Christ to be able to talk about their experiences is a recurring theme in the interviews the Voice had with former members across the country. Agrella herself was originally hesitant to have her name used in this article.
Currently in a direct-entry nurse practitioner program in Massachusetts, she said while she was only involved for four months, it took far longer for her to heal from her experiences. 
"I guess I kind of did go through a little bit of a whirlwind with them in a short amount of time," laughs Agrella after sharing her story.  "I feel lucky that I left when I did," her voice quickly flattening.
"I'm one of the lucky ones."
Check back next week for the final story of this series, where we explore why it takes some former members time to share their experiences, what's holding them back, and the path forwards for the  Simmons Administration, Student Affairs, and Spiritual Life in protecting Simmons students from destructive faith groups. 
*The Voice made multiple requests by email, phone call, and social media to the Boston Church of Christ and its Campus Minister for an interview or statement.
After two phone calls to the Church in order to confirm whether or not the requests had been received, someone from the Church called back to say that they had.
When asked why requests were not acknowledged, the person calling from the Church, who refused to give their name on the record, said that what is in the media about the Church gets twisted/spun, so it's easier to ignore requests than to decline.
Asking for clarification, the Church declined to provide a statement or interview for this series.
While the Voice knows the identities of the Boston Church of Christ's campus ministers, our editorial team has decided to not publish their names in this series.