Melancholy-Jolly: a mix for when you're tired of Mariah, Bing, and Bublé
If you're like me, you love the holiday season and all its festivity, but Mariah Carey's "All I Want For Christmas Is You" can only do the trick a few hundred times. As such, I've created you a mix of indie, folk, alternative, and otherwise soft-spoken holiday tunes that is a little wistful, a little Grinchy, and a little hopeful. After all, this godforsaken year is almost over. Click on the Happy listening!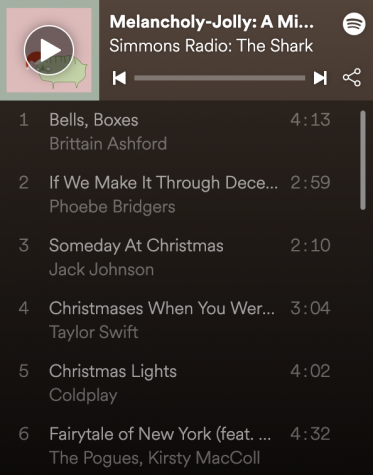 1.  "Bells, Boxes," Brittain Ashford 
American actress and folk musician Brittain Ashford's "Bells, Boxes" is a tribute to a December in a difficult year, in which you find the holiday spirit in the arms of the one that you love. This song feels especially poignant to me this year, as for many of us, the ones we love are further, and dearer, than ever. 
"The season has a way of reminding us of
What it is we think that we have lost
But this picture window, boxes at our feet
You take my hand, and I swear, this is everything I need"
2. "If We Make It Through December," Phoebe Bridgers 
This year's newly-explosive, four-time Grammy-nominated singer-songwriter Phoebe Bridgers released a cover of Merle Haggard's 1973 single, "If We Make It Through December," continuing her annual tradition of releasing a holiday single and donating the proceeds. All proceeds from sales and streams of this track will benefit the Los Angeles' Downtown Women's Center. The song's title has an especially relevant meaning this year, as so many wait for the end of the month for this particular year to end.
"If we make it through December
Everything's gonna be alright, I know
It's the coldest time of winter
And I shiver when I see the falling snow
If we make it through December
Got plans to be in a warmer town come summertime
Maybe even California
If we make it through December, we'll be fine."
3. "Someday at Christmas,"  Jack Johnson
Jack Johnson brings the soft-rock acoustic style he is known for into this cover of a Stevie Wonder's classic, without losing the style and swing that you love the original for. 
"Someday at Christmas men won't be boys
Playing with bombs like kids play with toys
One warm December our hearts will see
A world where men are free"
4. "Christmases When You Were Mine,"  Taylor Swift 
Released in 2007 as a part of The Taylor Swift Holiday Collection EP, this song is a wistful, heartbreaking ballad about recollecting on Christmases with a partner after a breakup. Lovers of Swift albums new and old will appreciate the sound of this track, reminiscent of her earliest singles.
"I've been doing fine without you, really
Up until the nights got cold
And everybody's here, except you, baby
Seems like everyone's got someone to hold
But for me it's just a lonely time
'Cause there were Christmases when you were mine" 
5. "Christmas Lights," Coldplay
Although Coldplay released this song in 2010,  a decade later, its refrain about Christmas not feeling like Christmas at all might be more applicable now than ever.
"When you're still waiting for the snow to fall
Doesn't really feel like Christmas at all"
6. "Fairytale of New York," The Pogues & Kirsty MacColl
This non-traditional 1987 hit by Irish folk/punk group The Pogues is regularly voted the best Christmas song of all time in various television, radio and magazine polls in the UK.
"You were handsome
You were pretty
Queen of New York City
When the band finished playing
They howled out for more
Sinatra was swinging
All the drunks they were singing
We kissed on a corner
Then danced through the night
The boys of the NYPD choir
Were singing Galway Bay
And the bells were ringing out
For Christmas day"
7. "It's Christmas! Let's Be Glad!,"  Sufjan Stevens 
Perhaps the most "2020" Christmas carol of all is this song from Stevens's 2006 Album Songs For Christmas. Why? Just take a look at the lyrics.
"Since it's Christmas! Let's be glad!
Even if your life's been bad
There are presents to be had"
8. "Winter Song," Ingrid Michaelson & Sara Bareilles 
This song from Michaelson's Snowfall EP is a masterpiece that asks the question we need the answer to most in 2020: Is love alive? The following lyrics ring true in this time of social-distancing now more than ever.
"This is my winter song.
December never felt so wrong,
'Cause you're not where you belong;
Inside my arms"
9. "7 O'Clock News / Silent Night," Phoebe Bridgers Feat. Fiona Apple and Matt Berninger 
While the Simon and Garfunkel version of this track practically invented the melancholy jolly aesthetic this mix is aiming for, this playlist would not be complete without ruminating a little on the more recent news cycle. Bridgers, Apple, and Berninger's angelic harmonies cascade over audio recordings of nightly news briefings from 2019, ranging from news on the abortion debate to news from the Trump administration. God only knows what a 2020 version of this track would sound like. 
Phoebe Bridgers's press release from the day of this song's release read the following:
"Happy Holidays to everyone whose family has been literally or figuratively torn apart by Donald Trump. And to my racist, xenophobic, misogynistic, hypocritical family members, fuck you. Thanks Fiona, Matt, Simon, and Garfunkel."
10. "Christmas (Baby Please Come Home,)" Death Cab for Cutie
This cover was the version of this song my family listened to when I was growing up, and it took me many a Christmas to realize the original version was sung by Darlene Love in 1963. This track is from the band's 2004 holiday album  Maybe This Christmas Tree, which evokes the exact feelings of "Melancholy-Jolly" 
"Pretty lights on the tree
I'm watching them shine
You should be here with me
Baby please come home"
11. "River," Joni Mitchell
A classic regardless of whether or not you consider it part of the Christmas canon, this track from Mitchell's 1971 album Blue is one of her most covered by other artists, especially on holiday albums. 
"It's coming on Christmas
They're cutting down trees
They're putting up reindeer
And singing songs of joy and peace
Oh, I wish I had a river
I could skate away on"
12. "Pretty Paper," The Lumineers
A short, romantic track from The Lumineers; the imagery of wrapping presents in blue ribbon seemed like too good of a metaphor to not include on this merry melancholy mix.
"Pretty paper, pretty ribbons of blue
Wrap your presents to your darling from you
Pretty pencils to write I love you
Pretty paper, pretty ribbons of blue"
13. "Snow," Sleeping At Last
Sleeping At Last's "Snow" perfectly portrays a hauntingly beautiful snowy December night, and the collective memories they bring. 
"Christmas lights tangle in knots annually
All families huddle closely
Betting warmth against the cold
All the bruises seem to surface
Like mud beneath the snow"
14. "White Winter Hymnal," Fleet Foxes
Brought into the Christmas canon by acapella group Pentatonix covers, folks may not know that this was actually the first single off of Fleet Foxes' 2008 self-titled debut album. The original is just as much fun as the Pentatonix versions, with a woodsy quality that fans of Hozier will enjoy. 
"I was following the
I was following the pack
All swallowed in their coats
With scarves of red tied 'round their throats
To keep their little heads
From fallin' in the snow
And I turned 'round and there you go
And, Michael, you would fall
And turn the white snow red as strawberries
In the summertime"
15. "Christmas Makes Me Cry," Kacey Musgraves
Musgraves has taken multiple genres by storm over the last few years, and this Christmas crooner about being heartbroken for the holidays is no exception to her phenomenal discography. 
"It's all red and gold and Nat King Cole and tinsel on the tree
It's all twinkle lights and snowy nights and kids still believe
And I know that they say, "Have a Happy Holiday"
And every year, I sincerely try
Oh, but Christmas, it always makes me cry, hmm"
16. "It's Not Christmas 'Til You Come Home,"  Norah Jones
Released as a Spotify Single in 2017, Norah Jones's vocals on this track rank up there with classic Christmas jazz singers like Eartha Kitt. 
"I won't believe it's Christmas
Till you make it home to me
The snow isn't white, the stars aren't bright
And lights don't belong on the tree
I will stay up all night waiting
For you on Christmas Eve
The sleigh bells won't ring
Bing Crosby won't sing
It's not Christmas till you come home" 
17. "Merry Christmas, I'm Yours,"  Brittain Ashford 
Queen of #SadGirlChristmas, Ashford's uniquely smoky and rich vocal quality contrasts interestingly with the sleigh bells heard repeatedly throughout the instrumentation.
"The air is cold
And I am packing for home
Will you stay with me awhile before I go?
Watching the dim lights casting shadows on the living room
Merry Christmas, love
Merry Christmas, I'm yours"
18. "Christmas Must Be Tonight,"  Bahamas 
A track from the 2011 album This Warm December: A Brushfire Holiday Vol. 2, Bahamas put a unique, Jack-Johnson-Esque twist on this song by The Band.
"How a little baby boy bring the people so much joy
Son of a carpenter, Mary carried the light
This must be Christmas, must be tonight"
19. "Have Yourself A Merry Little Christmas," Phoebe Bridgers 
A melancholy take on your mother's favorite Christmas classic, Bridger's hauntingly beautiful vocals profoundly transform this track into a version unlike any other on your playlist.
"Through the years
We all will be together
If the fates allow
So hang a shining star
Upon the highest bough
A merry little Christmas now"
20. "New Year's Day,"  Taylor Swift 
While more of a reflective piece than a holiday classic, fans of Swift's softer side will enjoy this track from her otherwise ice-cold 6th studio album, Reputation. 
"Don't read the last page
But I stay when you're lost and I'm scared and you're turning away
I want your midnights
But I'll be cleaning up bottles with you on New Year's Day"
Happy Holidays from all of us here at the Voice and Shark! Tweet us @RadioSimmons and @TheSimmonsVoice with your favorites from this playlist!