Simmons students face wildfires in California
Ithzamar Valencia has an evacuation bag packed. She's lived in California all her life, but says the fires have never gotten this close to her home in Palo Alto. A constant haze from smoke has settled over her city. This is the reality of Simmons students taking classes from their homes in California.
Valencia and fellow Californians are feeling the direct effects of climate change in the form of  stronger and longer fire seasons in their state, says the California Department of Forestry and Fire Prevention (CAL FIRE) . According to a 2019 study published by the American Geophysical Union, the size of California's wildfires increased fivefold from the early 1970s to 2018. This growth was driven by hotter summer months that created drier conditions allowing for wildfires to thrive. 

A video taken by Gaby Hernandez on September 9, showing her view from San Francisco.
The fire closest to Valencia, the CZU Lightning Complex fire, was caused by lightning striking dry fuel on the ground, says CAL FIRE. The Department reports the fire has since burned 86,509 acres of land as of 7:16 a.m. (PDT) September 10th. There are 43 fires burning across California as of September 10, according to the LA Times. 
Gaby Hernandez, a Simmons sophomore from San Francisco, says she only started to feel the impacts by the fires in the last two years. She attributes the only recent impact of fires on her city to global climate change. 
"It feels really apocalyptic, like the world is ending," says Hernandez. She describes waking up to a dark, orange sky over San Francisco. Over the past weeks, ash falling from the sky has left a dusting on her family car. She's taken up wearing two masks when she goes out, a medical-grade N95 mask on top of another, to protect from both the pandemic and the unhealthy air quality caused by smoke. 
Grace Gerbracht, a sophomore from Berkley, California echoed Hernandez' concerns about climate change driving wildfires.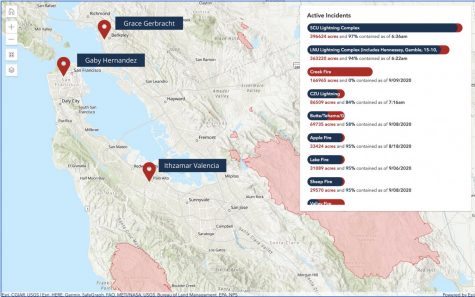 "I feel like it's getting worse every year. Fire season usually starts around late September, now it's getting earlier and earlier," says Gerbracht. She notes that with the current fires she won't need to evacuate, but lives around grasslands that are susceptible to wildfires. As they continue into fire season, she sees evacuation as a real possibility.
All three of the students say they have been able to keep up with school work despite the stress of the wildfires. "It's kind of a block that you have to put on those emotions and just focus on your schoolwork," says Valencia. 
But as dry, harsh winds continue, and California trudges deeper into fire season, the new normal of working from home caused by the COVID-19 pandemic could change in an instant.