COVID's impact on Fenway's restaurants
Walk down Peterborough Street and you'll find a quaint corner of the Fenway neighborhood with students, tourists and locals walking to restaurants and sitting outside to enjoy their food.
Since the stay-at-home advisory in Massachusetts began, the streets are no longer crowded with students. The fans who frolic on spring and summer nights before a Red Sox game never arrived. For some businesses, that barren street has been detrimental. 
In the middle of Peterborough is Neighborhoods Cafe. The small cafe and creperie opened in 2012 and has been a frequent stop for college students ever since.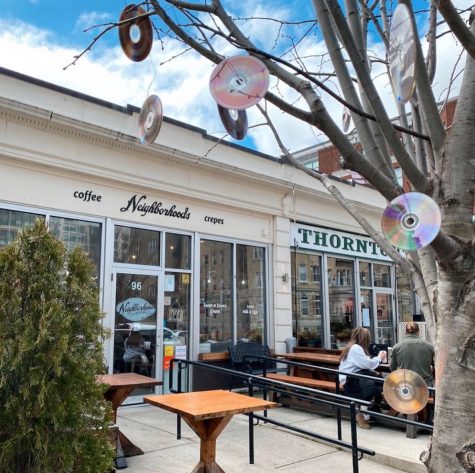 After universities like Simmons, Northeastern University and Boston University closed their campuses in mid-March, the cafe's business took a hit. 
College students make up about 50% of the cafe's business, according to owner Betsy Hill. 
Even with Gov. Baker's plan to reopen Massachusetts' economy, Hill says business will not be the same until students return. 
Hill, who spoke with the Voice in between helping customers at the cafe's counter, says she had to let 15 employees go after business plummeted. Before the pandemic, Hill says she worked 20 hours at the counter per week. Now, she's working 50 hours with only two employees left to help her staff the counter. 
"We're doing fine, but it's not ideal and not sustainable," said Hill. 
To make up for the loss in business, Neighborhoods partnered with their produce vendor to sell produce boxes. The boxes are popular among people trying to avoid grocery stores, according to Hill.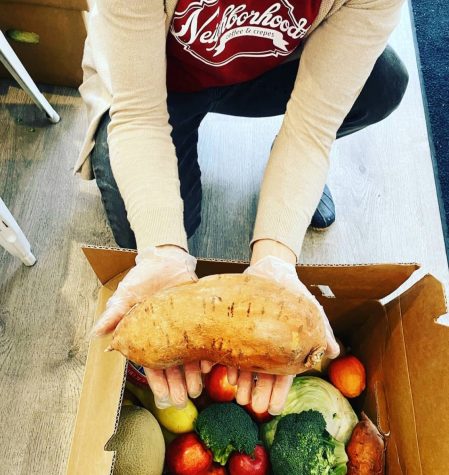 "If we hadn't gotten creative, we would've had to go out of business," said Hill.
Next door to Neighborhoods is El Pelón Taquería. The restaurant opened its first location on Peterborough Street in 1998 and a second location near Boston College in Brighton in 2010. 
Like many businesses, El Pelón received a Paycheck Protection Program (PPP) loan, according to owner Jim Hoben. Hoben says that the loan has not been as easy to use as he originally expected.
At least 75% of the PPP loan must be used for payroll, according to Forbes. The other portion of the loan must be used for utility payments, rent and/or mortgage interest payments.
Because 75% of the loan must be used to pay employees, some of El Pelón's employees will have to come off unemployment to receive pay. But Hoben says once the loan is gone, employees will likely have to go through the unemployment insurance process again to receive pay.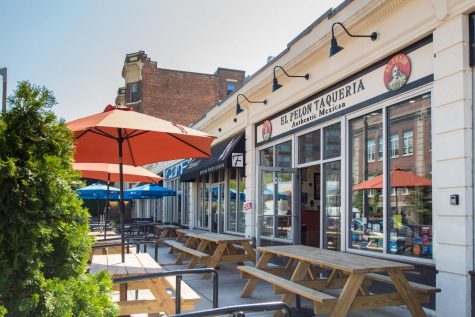 Although El Pelón pays for interruption insurance to cover expenses during times of crisis, the exemptions for viruses and pandemics mean that the restaurant cannot use the insurance to cover expenses like rent and utilities, according to Hoben.
"We pay to insure for situations like this," said Hoben. According to the owner, El Pelón pays over $12,000 per year in interruption insurance. 
There is currently a bill in the Massachusetts Senate, filed by Sen. Jamie Eldridge, to change the exemption. 
Although El Pelón has been able to continue serving customers through takeout, curbside pickup and delivery, profits have been significantly affected, according to Hoben. 
Prior to the stay-at-home order, Hoben says deliveries only made up a small portion of the restaurant's profits. Now, they make up 70% of orders.
Because delivery companies like GrubHub and Postmates take a certain percent of profits from each order they deliver, El Pelón does not make the money from delivery orders that it would from an in-person takeout order. 
"I could get rid of them by right now they're 70% of my business. I would just close up at that point," said Hoben. 
Hoben describes the delivery service companies as "the mafia" because of the nature of their partnerships.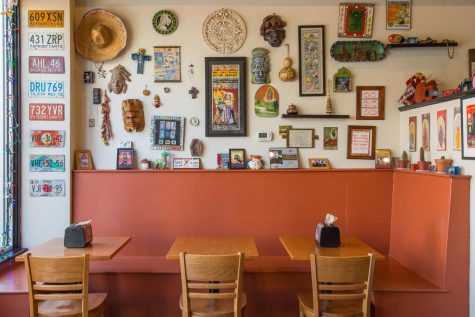 "Our platform is free for any restaurant owner who wants to join since we have a fee-for-service model. If a restaurant wants us to deliver on their behalf, there is a 10 percent fee to provide this service. This is optional; a restaurant can choose to perform its own delivery. But the costs associated with delivery are not optional," wrote a GrubHub spokesperson in a statement.  
To read the full statement from GrubHub, click here. 
"Commissions are privately negotiated agreements between the restaurant or a consumer goods business and the Postmates platform," wrote a spokesperson from Postmates in a statement. "Commissions are not "fees", they are the main source of revenue for our company and they are how we pay for the services that we provide to businesses and our customers."
To read the full statement from Postmates, click here.
Although Gov. Baker recently announced a plan to lift COVID-19-related restrictions, it is unclear if or when business will go back to normal for restaurants like Neighborhoods Cafe and El Pelón. 
One thing that is certain is that businesses like these play a vital role in the experiences of college students in Boston, according to Tasha Baclawski, Colleges of the Fenway senior director of programs and communications.
"Local businesses play a large role in enhancing the student experience for Colleges of the Fenway students, as well as faculty and staff," wrote Baclawski. "Because we are located so closely to area restaurants, shops, museums, and many other area businesses, our students are frequently there on a daily basis and making a significant economic impact in the area."
Although students now living outside of the Boston area may not be able to support businesses like Neighborhoods and El Pelón in takeout orders, there are other ways to show support. 
To support Neighborhoods, Hill says customers can purchase gift cards online for themselves or for first responders in Boston. For El Pelón, Hoben says students can help by advocating for the Senate bill to change interruption insurance exemptions and for caps to delivery fees, as well as purchasing gift cards.