SwimDive Gives Williams Her 100th Career Coaching Victory in 180-120 Decision at Mount Holyoke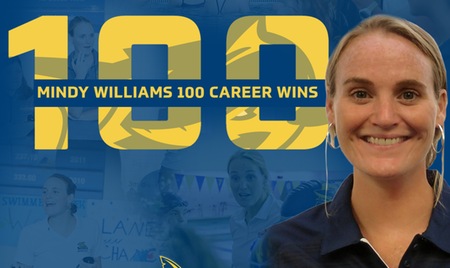 SOUTH HADLEY, Mass. – Simmons University women's swimming & diving Head Coach Mindy Williams (Hampstead, N.H.) earned her 100th career coaching victory following the Sharks 180-120 victory over host Mount Holyoke College this afternoon in their final dual meet of the season at the MHC Natatorium in South Hadley, Mass. The Sharks improve to 6-5 on the season, while the Lyons fall to 3-5.
Williams becomes the first swimming & diving coach to reach the century mark in wins in school history and owns a career mark of 100-40 (.714).
Simmons won 11 of 16 events during the meet, led by senior Laura List (Bedford, Mass.), who won a trio of events to score a meet-high 27 points.
The Sharks trailed 11-6 after the opening 200-yard medley relay, but erased the deficit following a victory in the 1000-yard freestyle by senior Áine Scholand (Albuquerque, N.M.). Scholand won the race by nearly 38 secon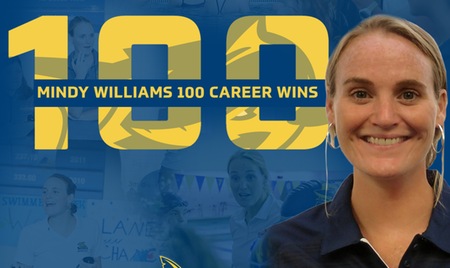 ds for the first of two triumphs on the day. List later followed with a win in the 100-yard backstroke with a mark of 1:04.69. List sprinted to a win in the 50-yard freestyle with a time of 26.04 and edged out Mount Holyoke junior Tamara Mukulu (Nairobi, Kenya) by 13 one-hundreths of a second in the 100-yard freestyle for her third victory.
Scholand added a win in the 500-yard freestyle, clocking in at 5:25.95 to win by more than 16 seconds.
Junior Anna Leedham (Lowell, Mass.) tallied 17 points on the day for Simmons with a win and a pair of second-place efforts. Leedham touched the wall at 2:22.11 in the 200-yard butterfly to win by more than two seconds. Sophomore Lauren Howard (Abington, Mass.) and first year Katelyn Quinlan (Haverhill, Mass.) each racked up 16 points with a first, second and third-place showing for the Sharks. Quinlan earned a two-plus second victory in the 100-yard breaststroke with a time of 1:13.39, while Howard earned the first-place check mark in the 200-yard backstroke with a 2:23.80 clip.
Simmons junior Olivia Walz (Natick, Mass.) scored 13 points, including a win in the 200-yard freestyle on a time of 2:08.21 and first year Meg Driscoll (Haverhill, Mass.) registered a victory in the 200-yard breaststroke at 2:37.01.
Sophomore Sarah Singleton (Mission Hills, Calif.) led off the Sharks' winning 200-yard freestyle relay to cap the meet and was followed by Walz, Scholand and List on a combined mark of 1:45.56.
The Lyons dominated the diving events with a 1-2-3 sweeps on both boards. Senior Samantha Nemivant (Scottsdale, Ariz.) won the one-meter diving competition, as she produced a nationally-qualifying score of 275.50, while Kathryn Murphy (Fairport, N.Y.) produced a mark of 257.50, earning a spot at the NCAA Division III Regional Championship meet later this season. Katie Kolozsvari (Danville, Ind.) also posted a score of 237.81, which was good for third overall. Junior Sara Manjikian (Belmont, Mass.) tallied 173.10 points to place fourth for Simmons. Mount Holyoke repeated its one-meter placing on the three-meter board with Nemivant scoring 265.35 points to top the field and earn another national qualifying score, followed by Murphy's score of 253.10 and Kolozsvari's total of 238.00. Manjikian led the Sharks with a score of 198.15.
The Lyons opened the afternoon with a win in the 200-yard medley relay on a time of 1:59.61. First years Anais Magner (Ohiwa, New Zealand) and Erin Schrama (Taunton, Mass.) joined Mukulu and junior Caitlyn Richmond (Northampton, Mass.) combined for the victory. Schrama went on to earn a win in the 100-yard individual medley with a time of 1:06.55, while junior Naomi Brown (Bloomington, Ind.) scored a win in the 100-yard butterfly with a time of 1:04.27.
Simmons returns to the water on Friday, January 31 when it competes on the first day of the Great Northeast Athletic Conference Championship at the Boston Sports Institute at 6:00 p.m. in Wellesley, Mass. The Sharks divers compete on the three-meter board in the conference title meet on the same night at the Holmes Sports Center Natatorium on the campus of Simmons in Boston at 6:30 p.m.