Gwen Ifill to be Honored with "Forever Stamp"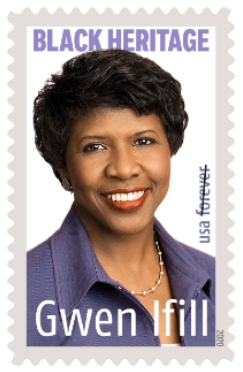 The late Gwen Ifill, a Simmons alumna, and celebrated political journalist will be honored with a forever stamp by the United States Postal Service (USPS).
The stamp includes a 2008 headshot of Ifill, taken by photographer, Robert Severi. Above Ifill's photo are the words, "Black Heritage." According to the USPS website, Ifill's forever stamp will be released in 2020 along with several other designs. 
"These miniature works of art offer something for everyone interested in American history and culture," said USPS Stamp Services Acting Executive Director William Gicker in a press release. "From notable figures such as golf legend Arnold Palmer and esteemed journalist Gwen Ifill to the cultural phenomenon of hip hop to a celebration of the great outdoors, this program is wide-ranging and adds to the history of our great nation as recorded through the U.S. stamp program."
According to the USPS website, other stamps to be released in the 2020 collection honor the centennial anniversary of the 19th amendment, the 200th anniversary of Maine's statehood, and the "voices of the Harlem Renaissance."
In 2018, Simmons unveiled the Gwen Ifill College of Media Arts and Humanities as part of a restructuring of the college's programs and transition to a university. 
Ifill graduated from, then, Simmons College in 1977 and went on to work at several major news outlets, including The Boston Herald, The Washington Post, and The New York Times. In 2004, Ifill became the first Black woman to moderate a presidential debate, and in 2013 joined Judy Woodruff to become the first all-female team to anchor a network news program on PBS News Hour. Ifill died of cancer in 2016.
"The timing of the announcement was perfect," said Ifill College Dean, Brian Norman. "It followed our first annual Ifill Forum that brought many of Gwen Ifill's friends, family, mentors, and admirers to campus for a public conversation on race, media, and democracy."
On October 19, Simmons hosted the first annual Ifill Forum, where nearly 300 alum, students, and faculty came together to celebrate Gwen Ifill and engage in conversation regarding challenges faced by the media today. Journalists Yamiche Alcindor and Judy Woodruff, who both share a connection to Ifill as former PBS co-workers, attended the event.
"It is so important that we celebrate greatness and those who model our ideals," said Dean Norman. "The Ifill College and this stamp are making sure that we pass on Gwen Ifill's legacy for the next generation."
Students have also expressed excitement about the unveiling of the Ifill forever stamp. Senior Anna Zhang, a recipient of the Ifill Scholarship, noted Ifill's legacy extends beyond journalism. As a history and sociology double major, Zhang can see how Ifill's work will impact her own.
"Gwen Ifill's dedication to pursuing the truth as a journalist has not just enlightened a generation but also created the foundation for historical research in the future," said Zhang. "Looking back, historians will have the rich primary sources of Ifill's reporting to work with, and it is only fitting that her image is commemorated as well." 
Members of the Simmons community echoed Zhang's appreciation for Ifill's legacy as a journalist, writer, and storyteller.
"How fitting that Gwen will get her own postage stamp," said Dean Norman. "She was an amazing communicator and now we get to celebrate her by communicating with each other."