Yayoi Kusama's LOVE IS CALLING is more than an Instagrammable experience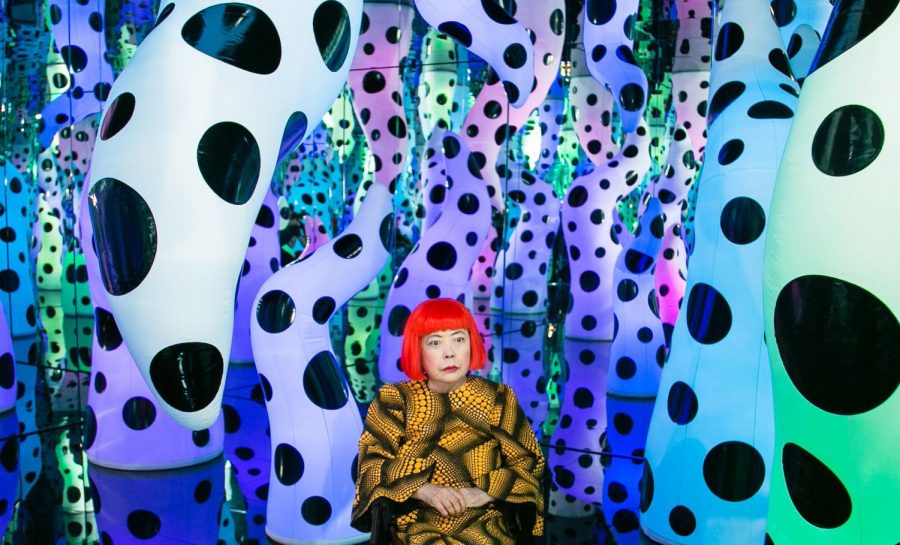 A month since the opening of Yayoi Kusama's LOVE IS CALLING at the Institute of Contemporary Art in Boston, over 440 public Instagram posts with the ICA location tag have been made. 
This immersive exhibition is one of over 20 Infinity Mirror Rooms created by Kusama, and is the newest addition to the ICA's permanent collection. 
The 90-year-old Japanese artist works in a range of mediums, from sculpture, to painting, to fashion, and just about everything in between. Despite the breadth of Kusama's work, there is a consistent theme stemming from her philosophy of "oneness with the cosmos," conveyed through her frequent use of polka dots, and inspired by her experiences with hallucinations.  
The glowing, colorful, inflatable, tentacle-like arms in the LOVE IS CALLING Infinity Mirror Room are covered with black polka dots, hanging down from the mirrored ceiling, and reaching up from the black reflective floor. With all surrounding walls being mirrored, the viewer is taken into a different realm for the two minutes of viewing time they are permitted. 
"We all know she is the most Instagrammable artist at work today," said Jill Medvedow, director of the ICA. "She was important for 50 years before there was Instagram. Conveying that, and sharing that, and making it clear to you is our goal and our mission." 
The ICA conveys this importance through the text on the gallery walls, as well as through the accompanying collection Beyond Infinity: Contemporary Art After Kusama, which features pieces that "engage with the pioneering ideas of Yayoi Kusama," according to the ICA's website. However, there is a crucial piece of information that is missing.
Kusama has experienced visual hallucinations since she was a child, and has been living voluntarily in a psychiatric hospital in Tokyo since 1977. In 1963, in an interview with art critic Gordon Brown, she said that her hallucinations "began to cover the walls, the ceiling, and finally the whole universe," and inspire her distinctive style.
When stepping foot into LOVE IS CALLING, the viewer is entering Kusama's reality, whether they know it or not. If viewers educate themselves about the history of her mental health, a layer of complexity is added to the installation. With this information in mind, a new experience is created, making it so much more than an Instagram photo-op. 
Go ahead and share your photos of this incredible addition to the ICA's permanent collection, as well as celebrate the work of a pioneering artist. You should be sure to tag the location and tag the ICA; but take the time to recognize and appreciate the rawness, realness, and vulnerability in the world of Yayoi Kusama. 
LOVE IS CALLING will be on display at the ICA until February 7th, 2021. For more information, please visit the ICA website.