Somerville designer brings zines and creative empowerment to Simmons University
New "Mentor-in-Residence" uses digital art to shed light on women filmmakers.
Digital illustrator and film buff, Alex Kittle, visited Simmons University this week to share her experiences as an independent artist and teach zine-making to students.
"Basically, I am obsessed with film and pop culture and I make art inspired by that because that's what I find really exciting," Kittle said.
But her art obsession has become more than just skills and an occupation—it's become a calling.
"There really is something for everyone, you know. And I find that really beautiful. It's kind of a great connector in that way," Kittle said.
Kittle is from Somerville and attended Tufts and Boston University, where she earned her Master's in Art History. Currently, she works as a full-time, self-employed artist, but formerly served as an assistant director at Uforge Gallery in Jamaica Plain, and buyer for Boston's Institute of Contemporary Art Store.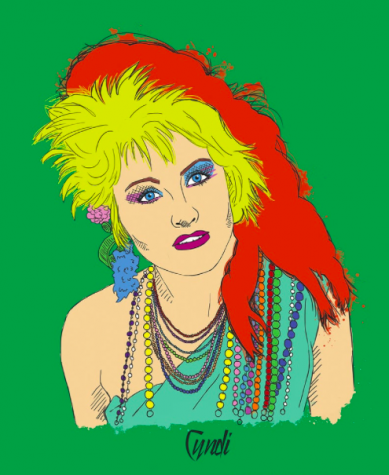 Like many artists today, Kittle's passion began with doodles.
"I just really loved drawing when I was younger. I was always drawing in sketchbooks when I was in college […] that's always just the way that my mind has worked," Kittle said.
Kittle brought her creative enthusiasm to Simmons after meeting English Professor Audrey Golden at a local art market. With the help of Communications Professor Andy Porter, what began as an interesting idea for a guest lecture quickly turned into a mentorship opportunity.
"I was like, yeah, that sounds great! Then it kind of escalated in an unexpected way," Kittle said.
During her visit to Simmons, Kittle's main goal was to spark creative interest from students who didn't consider themselves particularly artsy.
"I know a lot of the folks that I'm talking to maybe aren't necessarily artists or aren't planning on going into the arts in the same sense that I am, but I do really believe that anyone can be an artist […] I hope to inspire people to think of ways that they can really find creative outlets to share their passions and think of different ways that they can make or share art."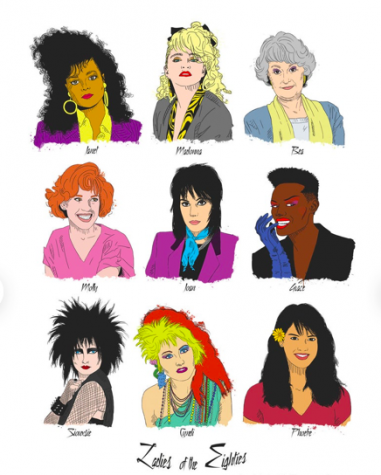 Kittle is the first professional of the semester to visit the Gwen Ifill College of Media, Arts, and Humanities as part of the new "Mentor-in-Residence" program.
Since the program's launch in February 2019, Simmons has welcomed six other mentors.
Past mentors have included Nancy Ancrum, an editor for the Miami Herald; Yolanda Coentro, CEO of the Institute for Nonprofit Practice; Sneha Shrestha, an artist, educator, and social entrepreneur from Nepal; and New York Times bestselling author, Elizabeth Acevedo.
Typically, mentors stay on campus for a few days to share their wisdom with Simmons students through a variety of activities such as "class visits, workshops, themed lunches, readings, teaching discussions, meeting with student organizations, one-on-one sessions, and community activities," according to the program website.
One of Kittle's community activities was a lecture held on Tuesday in the Trustman Gallery titled Contemporary Cinema and Digital Illustration, but her keynote event was a two-hour zine workshop.
Students who attended the zine event on Wednesday met with Kittle in the faculty dining room to learn a bit of her expertise and let off some creative steam. 
Zines became a favorite medium of Kittle's when she encountered a major issue with female representation in the films she loved watching.
"We all know what Quentin Tarantino looks like […] even someone like Wes Anderson I think is pretty recognizable. But I think there are very few women directors that have that kind of visibility," Kittle said.
To combat this film-based inequality, Kittle started quite literally "putting faces" to names of female directors by creating portraits, pins, stickers, and posters.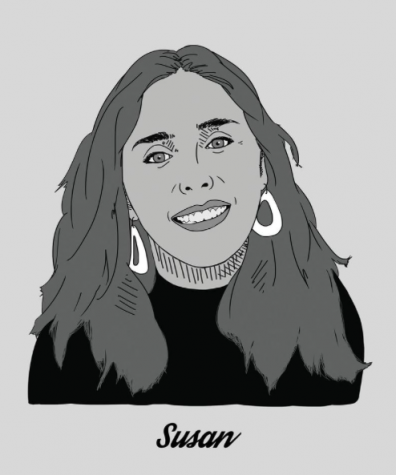 "I'm just trying to really highlight their work and highlight what inspires me about them […] it really helps people to connect to their work, to connect who they are and their identities with the films they're making," Kittle said.
Along with her filmmaker project, Kittle also helped to start up "Strictly Brohibited," a series of female-directed film screenings held at Video Underground in Jamaica Plain, High Energy Vintage in Somerville, and the Brattle Theater in Cambridge.
"A lot of the films that we show are often lesser known ones that are harder to find […] I don't want to show people the obvious stuff, I mean we've all seen Wonder Woman—not to belittle that, but it's like I'd rather share a weird movie from the 70s," Kittle said.
Check out more of Kittle's illustrative work for sale on her Etsy website or get in touch for commissioned artwork.