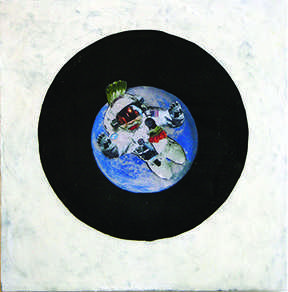 By Jennifer Ives
Staff Writer
With the election year in full swing, the Black Lives Matter movement gaining steam, and the refugee crisis mounting, politics seem to be more than ever at the forefront of the public's eye. That conversation is reflected in the art around us. The Trustman Art Gallery alternates hosting student and visiting works throughout the year, and their current visiting exhibit, which is closing very shortly on Oct. 6, reflects and comments on many of our current and more- relevant- than- ever- issues.
"JOLT Guns Race and Immigration" opened on Sept. 8 2016 in the Trustman Art Gallery on the fourth floor of the Main College Building, and will close Oct. 6. The exhibit explores and plays with the different facets of the incredibly complicated issues it is named for. The exhibit featured a Gallery Lunchtime Lecture by Ben Cole, Simmons Assistant Professor of Political Science and International Relations on Wednesday, Sept. 21st 2016.
Starring the work of three wonderfully political and introspective artists, the collection is a well-balanced display of near minimalism at times, as well as carefully organized chaos. Yu-Web Wu's "Migration" series (2015) blends classic tones of gold leaf overlay and stark white backgrounds into her contemplation of immigration and the American Dream. Tea leaves, maps, and beautiful depictions of mathematical patterns of immigration combine to effortlessly give her work a slick high- end feel, while still probing at the issues of inequity and reality.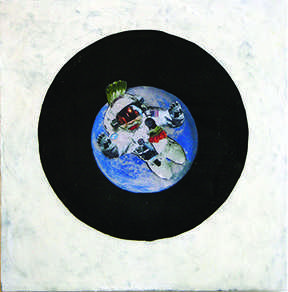 James Montford's mixed media series "The Planetarium Of Black Indian Constellations" (2016) is part of a larger project he has been working on for over 20 years, culminating in an ongoing discussion of micro- aggressions and diaspora. His work mixes surrealist spacescapes with classic political imagery.
"Lead and Silver" by Jordan Kessler (2014-15) rounds out the discussion with a photographic exploration of the all too relevant issue of gun culture in America. Imprints of various handguns ominously hang in rich monochromes mounted in heavy metal frames, feeling more like the art you might find in a wealthy rapper's stereotypical abode than an exploration of such a political issue.
Well- spaced and minimally- framed, the collection benefits from minimal notations of small numbers correlating to their larger descriptions in beautifully printed pamphlets and postcard sized advertisements of the exhibit. In the airy, high-ceilinged, and softly carpeted gallery, the art feels less like a formulaically framed storage room––a feeling small exhibits can often suffer from––and more like a lush room poised to host a cocktail hour at a moment's notice.
While JOLT will be leaving the Trustman Art Gallery all too soon, the Gallery is sure to be hosting another engaging and provoking exhibit soon. The Trustman Art Gallery is open to the public Monday to Friday, 10a.m. – 4:30p.m., and is completely free of charge. It is located on the fourth floor of the Main College Building and is wheelchair accessible via elevators.