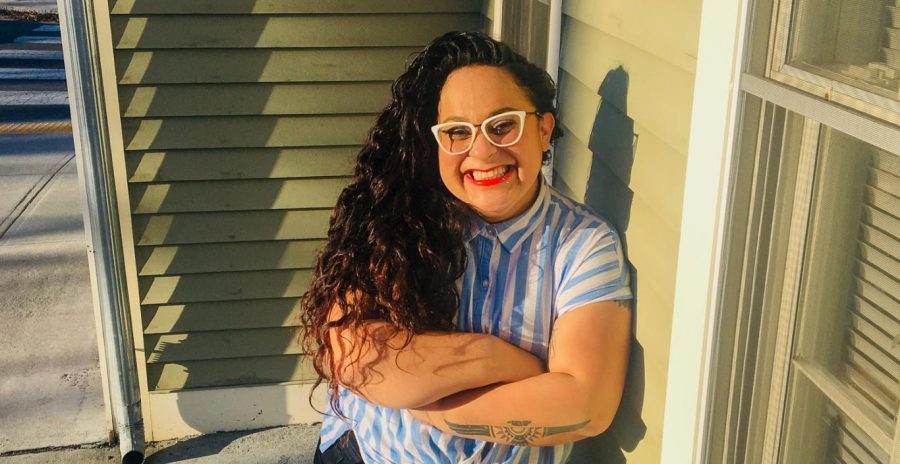 Simmons professor Dr. Tatiana Cruz enlisted her Spring 2022 AST 375/575 students to interview current and former Black students to build an archive based on the Black experience at Simmons. The project, entitled "Behind the Veil: Simmons Black Oral History Project", falls on the 50-year anniversary of the Africana Studies program and is inspired by previous Black history projects at Simmons. 
Dr. Cruz, a recipient of the Public Humanities Fellowship for Faculty and director of Africana Studies, says she created the class after realizing that the undergraduate curriculum did not include any oral history classes. 
According to Cruz, oral history is created through an extensive interviewing of individuals of interest with the goal of gaining an understanding of the time they live in. Cruz said her students underwent considerable instruction to be able to conduct interviews that meet the standard practices of oral history.
Cruz's students practiced their interviewing skills on current Black students. According to Cruz, the students reported common themes of isolation and lack of support at Simmons.
The class received responses from 14 black alumni, and interviewed eight, spanning from the Class of 1966 to the Class of 1981. 
The interviews spanned an hour to an hour and a half, and provided the interviewees with an environment "to tell their own story through a very mediated way," according to Cruz.  
Cruz said her students found themes of community and a very involved Black Student Organization, starkly contrasting the themes found in current students. Some of this divide may be attributed to social distancing and strict regulations due to COVID-19, said Cruz. 
According to Cruz, "Behind the Veil: Simmons Black Oral History Project" offers value both to the community and the students who enroll in her class.
"I really see this as a wonderful way to connect students with alumni and with other students, and to build community," said Cruz. 
The interviews conducted with Black alumni are being archived for posterity by University Archivist and Deputy Director Jason Wood and the Simmons Archives team, said Cruz. They will also be available on the Africana Studies website, which is also being created to celebrate the 50-year university of the program.
Dr. Cruz said that she aims to run "Behind the Veil: Simmons Black Oral History Project" at least once a year. 
"I hope this is the beginning of a long relationship between Black alumni who reinvigorate Africana studies here at Simmons," said Cruz.