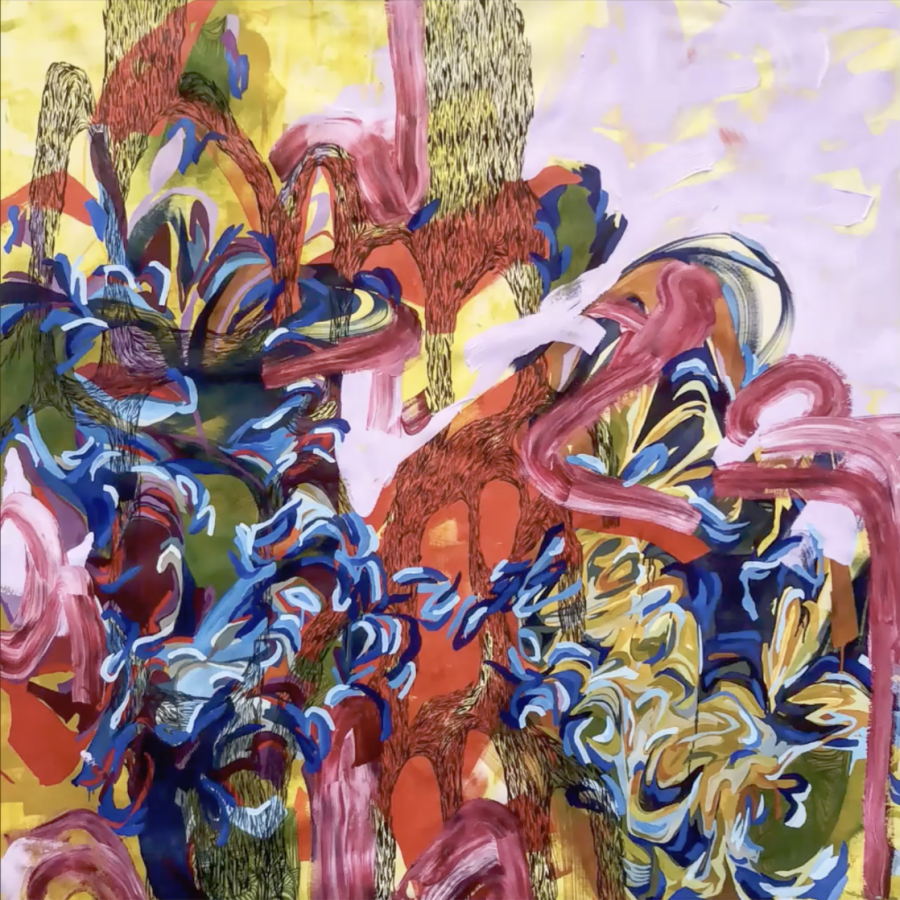 Content Warning: Destiny Palmer's works and this article include content that may be upsetting to some viewers. [Mentions of lynching, slavery, bodies.]
Painter and multimedia artist Destiny Palmer presented her exhibition, "To Bare Witness," in the Simmons University Trustman Art Gallery on December 2.
"To Bare Witness" is composed of selected works from Palmer's larger oeuvre entitled "Labored Bodies." 
Palmer said she began working on "To Bare Witness" in 2019, when she was experiencing a period of change in her life. Palmer was in the process of moving on from an Assistant Professor position at her alma mater MassArt to a middle school art teacher position at Thayer Academy in Braintree, Massachusetts.
"One of the things I had come across was that I had really wanted to figure out how to make what I was feeling," said Palmer. 
According to Palmer, her work focuses on the intersections of painting, use of color, and history, and explores "what it mean[s] to utilize your identity to kind of filter through into your work."
After earning a Masters from Tyler School of Art at Temple University in 2017, Palmer began making abstract paintings based on photographs of lynchings, as a way "to talk about bodies and talk about this history without re-traumatizing."
One such painting, entitled "A body hung here" (2019) is on display in "To Bare Witness."
Although Palmer felt that this work was paramount to her growth as an artist, she said it was extremely difficult to deal so intimately with murdered bodies.
"It takes a lot to look at this imagery and deal with this history," said Palmer.
Palmer then began to experiment with black and blue, evocative of a bruise, and the "mental place of being bruised." 
According to Palmer, she again felt like this heavy work was important, but not work she could continue to do without placing a burden on her own mental wellbeing. 
"I felt like I was on to something, but I couldn't stay here," said Palmer.
Following her exploration of the black and blue bruise, Palmer examined historical documents, including documentation of laws surrounding slave ships. 
Palmer explained that according to these documents, the amount of space allocated to each enslaved person was regulated, and extremely small. To illustrate this, Palmer included works of art exactly fitting the dimensions given to each enslaved person in "To Bare Witness."
"I think there's a really interesting documented history of Black folks in America, and so I'm really excited about working with that imagery and using it as truth," said Palmer.
The exhibition also includes work centered around re-constructed gloves. According to Palmer, these gloves represent the need for manual labor which spurred slavery, allowing these pieces to tie back into her themes of self-identity and processing traumatic history.
"These larger pieces, which is kind of where I am now, help me really think about the ways in which I can continue using fabric as a holder for history," said Palmer. 
As a cohesive exhibit, "To Bare Witness" serves as a testament to Palmer's experience as a person of color, and the complexity that comes with unpacking generational trauma.
"To Bare Witness" will be on display in the Trustman Gallery until December 17.