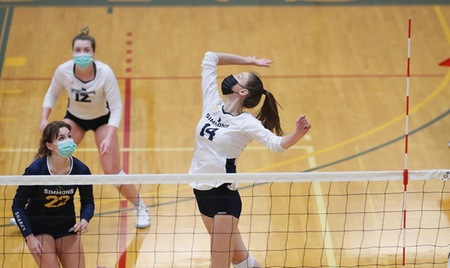 Sophomore Claire Conners led the second-seed Simmons sharks to a five set, 3-2 win in the Great Northeast Athletic Conference (GNAC) volleyball post-season tournament against seventh-seed Lasell University. 
Three-time "GNAC Rookie of the Week" Conners put up an unbelievable 17 kills in 37 attempts,  for a kill percentage of .378. 
Senior captain Krissy Llyod and junior captain Sydney Iannantuono followed close behind with 12 kills and 10 kills respectively. 
Sophomore libero Jordan Hacker and first-year Ava Saltzgiver played strong defense, setting up sophomore setter Kat Simeonidis for a stunning 44 assists. Simeonidis leads the team with 74 service aces this season and 6 against Lassell. 
Sophomore Jayla Parnell racked up 9 kills and 11.5 points, and senior Amanda Fortune had a banner performance with 5 kills and 7.5 points.
Lasell's Mckenna McCool and Camila Lopez led their team with 13.5 and 10.5 points respectively. 
The first set went to Simmons with a score of 25-12. Lassell rallied and edged out Simmons in the second, 25-22. Sharks came back with a vengeance in set three, winning 25-11. The next set went back to Lassell in an exciting 25-23. Simmons took the last set 15-6 on a seven-point run catalyzed by two service aces by Jordan Hacker. 
The Sharks play third-seed Johnson and Wales University in the semi-finals at the Holmes Sports Center tonight at 7 pm. Free tee-shirts and pizza will be provided to all who attend. 
The winner of tonight's game will advance to the 2021 GNAC Championships.