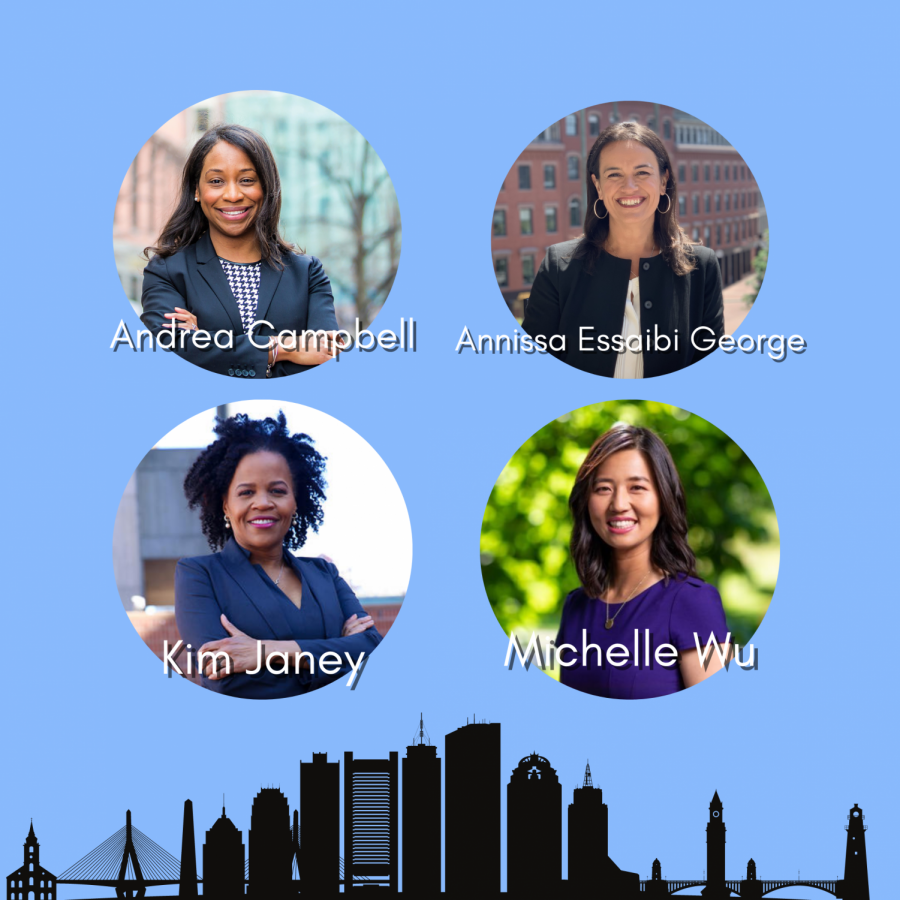 In the Boston Mayoral Election of 2021, there are currently four female candidates running for mayor. Andrea Campbell, Annissa Essaibi George, Kim Janey, and Michelle Wu.
Andrea Campbell was first elected as the District 4 Boston City Councilor, mainly representing neighborhoods in Dorchester and Mattapan. During her second term on City Council, she served as City Council President. Her public policy plans include creating a new approach to public safety, policing, and criminal justice that addresses the root causes of violence and crime in Boston. Also, Campbell wants to drive health and wellness in every area of the city, and tackle the climate crisis by building economic opportunity.
Annissa Essaibi George is a former Boston Public Schools teacher and an At-Large Boston City Councilor wants to address climate change from a community-based approach. She wants to ensure that Boston is intentional in rooting out inequity and dismantling racism, and she wants to plan for a healthier Boston is one that increases access to care, but also tackles the inequities that are present in our healthcare system.
The third female candidate, Kim Janey, is the acting mayor of Boston. She is a resident of Roxbury and was elected to the Boston City Council as the first woman to represent District 7. To bring safety, justice and healing to all neighborhoods, Janey wants to implement policing reforms and lead the city's efforts to battle the coronavirus pandemic.
The final female candidate, Michelle Wu believes in dealing with the challenges that are important residents of Boston by community building. Since the beginning of her career as a city councilor, she's supported legislation for healthcare equity. Wu also wants to dismantle racism, especially in the form of the racial wealth gap in Boston and propose the first city-level Green New Deal agenda to make Boston a beacon for climate action and environmental justice.
The election will be held on Tuesday, November 2nd, 2021.