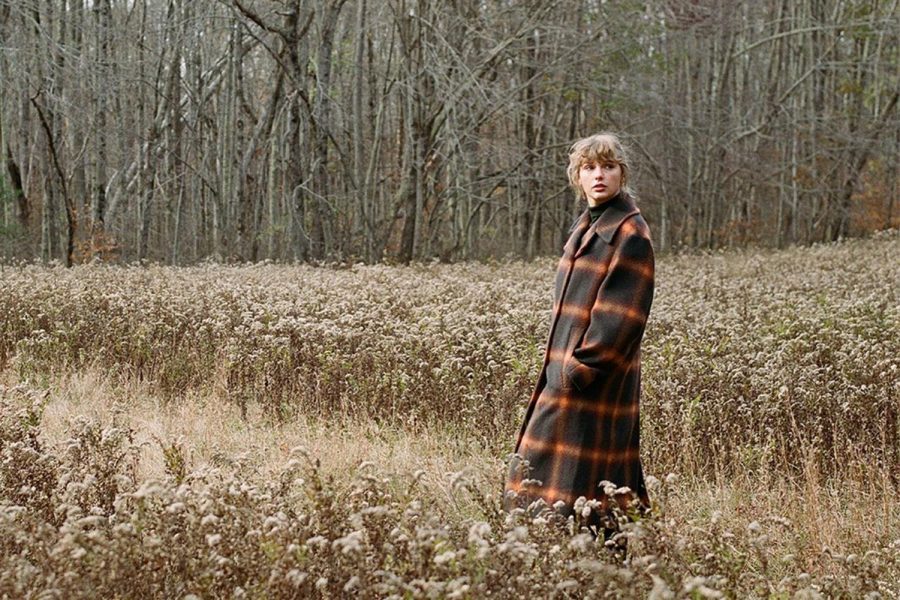 Taylor Swift, queen of break-up bangers and long-time Lord of the pre-teens, released her second surprise album of 2020,  Evermore, on December 11. Since the drop, the element of surprise has steadily worn off Swift's ninth studio album, exposing an astoundingly wide range of song quality.
Evermore, the follow-up to the Folklore album, has its share of bangers. In the most official of music terms, "Willow," the first track on the album, slaps, drawing heavily on the indie influence heard in Folklore and the 80s synth-pop undertones of the 1989 album. Running at just over three and a half minutes, the track is the perfect length for a snappy indie-folk song. 
The only thing that is more fun to humming along to "Willow" is humming along to the YouTube version featuring John Mulaney. It may be an acquired taste, but it seems to me that the Venn diagram of those who listen to both Swift and Mulaney is a circle. 
In "Ivy," another absolute bop, Swift employs a wistful tone paired with storytelling lyrics that can be described as fairylike. While it is on the same lyrical level as "Willow," I think that "Ivy" would have fared better on the Folklore album, as it would've stood alone as a more upbeat, powerful number. 
On the more downtempo scale, "'Tis the Damn Season" would pair nicely with a London Fog, a candy cane, and Phoebe Bridgers' cover of "If We Make it Through December." 
Swift first tackled Christmas music in 2007 with Sounds of the Season: The Taylor Swift Holiday Collection. A clear representation of her maturation as an artist and performer, "'Tis the Damn Season" is contemplative and disconsolate in nature, accurately representing a 20-somethings trip home for the holidays. 
In the heart-wrenching "Champagne Problems," Swift finally embraces the undeniable fact that she is an alto. A personal favorite, "Champagne Problems" describes the very public denial of a marriage proposal, a sort of second ending to 2008's "Love Story." 
Another somber slow-dance song, "Tolerate It," is the national anthem of mildly mentally ill teenagers who spend a little too much time thinking about their high school heartbreaks. As CEO of the company, I would know. Along with the feelings of nostalgia Swift's album emulates, Evermore boasts a handful of Top 40-worthy hits.
Reminiscent of her country-western days, Swift's "No Body, No Crime" dives into the hidden complexities of domestic abuse from an external perspective. The plucky yet macabre track climaxes in the murder of an abuser, with a gleeful chorus redolent of The Chicks' "Goodbye Earl." While it is rather dark, it has received a staggering amount of radio play, peaking at number 4 on the Billboard chart in December 2020. 
"Gold Rush," seemingly designed for radio play, is catchy and sure to get some AM/FM attention, but that is all it has to offer. The lyric about Swift's "Eagles t-shirt hanging from the door" is almost certainly written to remind everyone that she knows who the Eagles are, and might even have an indie record that's much cooler than yours. Although also seemingly made for radio play, "Long Story Short" lacks substance. It does, however, have a fun lyric about rabbits, which happens to be the only one I can ever remember. 
"Cowboy Like Me" is hauntingly beautiful yet somehow incredibly boring. Although it is critically acclaimed and thought of as the Evermore-era version of  "Love Story," it is simply not groundbreaking writing; the story arc contained in "Cowboy Like Me" is nothing new. The way I see it, the recurring themes of star-crossed lovers and money as a motivator are recycled in all of the studio albums Swift has released. The only real difference between "Cowboy Like Me" and every other Taylor Swift love story is that this one could put you to sleep. 
"Happiness," with its poetic and contemplative verses that give way to a repetitive and oversimplified chorus, seems like a filler track. To put it plainly, it's lazy writing. It is, in structure, almost identical to an AP Language and Composition essay I wrote on the way to the class the day it was due. It's fine, it just doesn't live up to what the first verse says it'll be. 
In "Coney Island," Swift teams up with the American rock band The National for the only song that has ever reminded me so much of a sea shanty whilst neither being a shanty nor about the sea. Besides trying to figure out why it makes me think of ragged sailors, there's really no reason to listen to this song. 
On the topic of songs better left unheard, a little birdie told me that "Marjorie" was written about Taylor Swift's opera-singing grandmother. That is all the birdie (or anyone else for that matter) told me. "Dorathea," while not inherently unlistenable, begs the question: what is up with Taylor's fascination with old-timey women's names? 
The title track of Evermore wraps up the album, with Swift teaming up with Bon Iver for a second time. It's a beautiful ode to moving on, pairing the best of Iver's vocals with the best of Swift's writing. It does, however, sound exactly like "Exile," their other song together. 
"Closure" would have been an excellent final song for both Evermore and Taylor Swift's career. I say this with the utmost respect and admiration for her work, but also as a big believer in letting a good thing just be a good thing. Swift has two live albums, five EPs, and eight studio albums. Over the last ten years, the quality of each album, both in writing and in musicality, has declined with every new release (with the exception of 1989). If Swift releases any more mediocre albums, like Reputation or Lover, we'll have something of a Grey's Anatomy situation on our hands. 
Evermore represents a beautiful journey, but one that is ready to come to a close. 
Unsurprisingly, since I began this article, Meredith Grey woke up from her coma and Taylor Swift released a new album. That being said, if anyone needs me I'll be catching up on the Grey-Sloane Memorial drama, or maybe even scouring the internet for some Taylor tour tickets. And so the capitalist marketing schemes go…