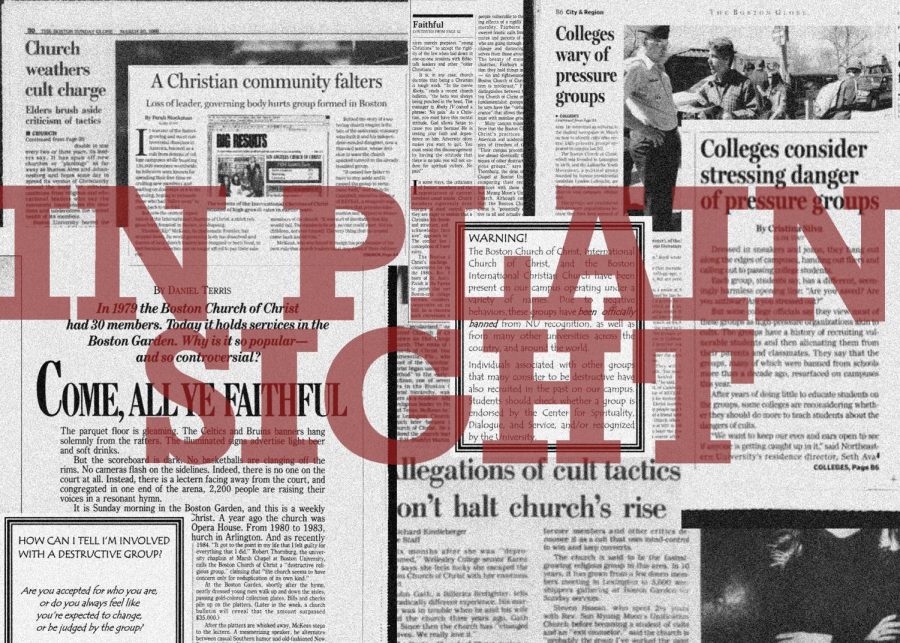 For over 30 years, The Boston Church of Christ and its campus ministry have caused national controversy for what academics, theologians, mental health professionals and higher-education administrators describe as predatory practices, psychological manipulation and destructive behaviors.
Despite guidelines and policies barring the Church from campuses in Boston, and national news coverage of the Church in the 80s, 90s, and early 2000s, the Church's campus ministry has been actively recruiting on Simmons' academic and residential campuses, holding unauthorized meetings in residential halls, and baptizing students into membership. 
In this four-part investigative series, we will explore how the group, well known by higher-education administrators to be "predatory," has been operating on Simmons' campuses, and how it continues to recruit Simmons students despite courses being held remotely due to the COVID-19 pandemic.
Follow along throughout the week as we explore how we got here and where we are through the stories of students, administrators, experts, and former members of the Boston Church of Christ.
*The Voice made multiple requests by email, phone call, and social media to the Boston Church of Christ and its Campus Minister for an interview or statement.
After two phone calls to the Church in order to confirm whether or not the requests had been received, someone from the Church called back to say that they had.
When asked why requests were not acknowledged, the person calling from the Church, who refused to give their name on the record, said that what is in the media about the Church gets twisted/spun, so it's easier to ignore requests than to decline.
Asking for clarification, the Church declined to provide a statement or interview for this series.
While the Voice knows the identities of the Boston Church of Christ's campus ministers, our editorial team has decided to not publish their names in this series.