COFIT: How COVID-19 has changed the face of wellness culture
Check out the Voice's additional coverage of this story on our Instagram, @TheSimmonsVoice.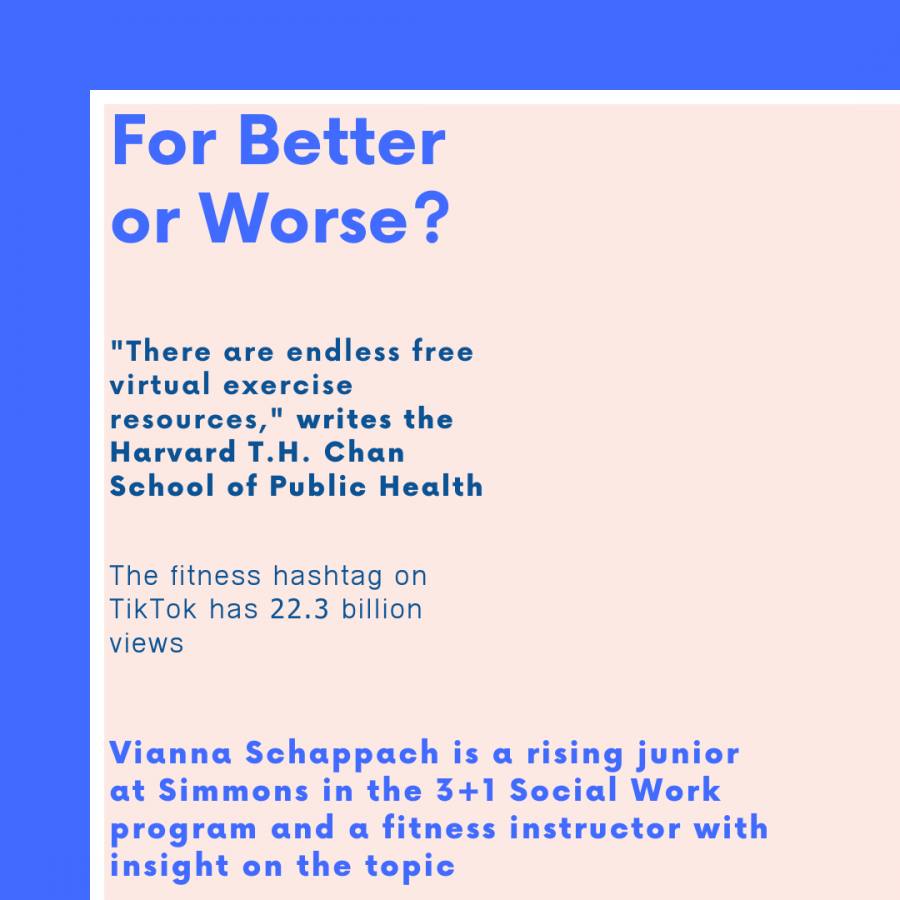 Maddy Horn, Staff Writer
May 13, 2020
The global pandemic is impacting people's health beyond the virus itself. The virtual wellness industry is booming through social media right now. A surge in posts online related to fitness and nutrition at home continues to grow.
In largely newfound sedentary life, there is a push that with supposedly more time, people can focus more on their health—including nutrition, wellness, and fitness. Not everyone has the same time or resources right now to engage with what is being promoted. In fact, people could be deprived of both at the moment. 
"There are endless free virtual exercise resources," writes the Harvard T.H. Chan School of Public Health. The fitness hashtag on TikTok has 22.3 billion views. These videos and words of encouragement can lead to misguidance. 
Vianna Schappach is a rising junior at Simmons in the 3+1 Social Work program and a fitness instructor with insight on the topic. Schappach has noticed an uptick in the wellness trend on social media in light of Covid-19, or the variations of social media campaigns for 'Cofit-19'.
 "What I'm seeing is that people are more prone to engaging in diet culture and eating disorder behaviors. People feel an increased pressure to not let really high expectations drop. The fact is that a pandemic is going on," she said. 
Diet culture and misinformation surrounding the topic of wellness on social media can be dangerous, toxic, and overwhelming. "Fitness and health looks and is experienced differently by everyone," Schappach said.
In support of members of the Simmons community on their individual wellness journeys during this time, Schappach had affirmation to offer as both a peer and fitness instructor. "I think it's about looking inward, understanding why you're doing what you're doing, and taking a step back to be honest with yourself," she said. 
Accounts on Instagram such as Virgie Tovar (@virgietovar), Latoya Shauntay Snell (@iamIshauntay), and many others spread positive, inclusive messages on social media in regards to body image, health, and wellness. Instagram and Facebook block users under the age of eighteen from seeing posts that promote weight loss products or cosmetic procedures. 
Strides are being made to improve how wellness is approached on social media, but there is still much room for improvement— especially during these times. Take wellness advice from online with caution.