After campus tensions, Simmons attempts to facilitate more discussions about diversity and inclusion
After a controversial incident at Simmons University last semester, students and administration are contending with how to address sensitive issues on campus. 
Starting the fall semester of 2019, an unofficial pro-Palestine group on Simmons campus put up flyers on the bulletin board of Simmons Hillel in order to protest against the promotion of birthright trips to Israel. According to members of the organization, the posters were taken down almost immediately, so they decided to start an Instagram account to make it visible to Simmons students. 
In order to ease tensions in the community, Simmons University Community Dialogue is planned to start March 1 of this year. The 'affinity healing circles' are structured with three discussions: a conversation with Jewish students, a conversation with students of other identities, and then a group discussion with students of all identities. Perez said these discussions were organized in order to heal the community and create a practice of having civil discussion with those you disagree with. 
Steph Pixley, who is associated with the Free Palestine group, said the discussions were originally structured differently. The first discussion would have been a discussion between Jewish students. The second discussion would have been an educational section about the history of Israel and Palestine, as well as Zionism, and the third discussion would have been between the two groups involved.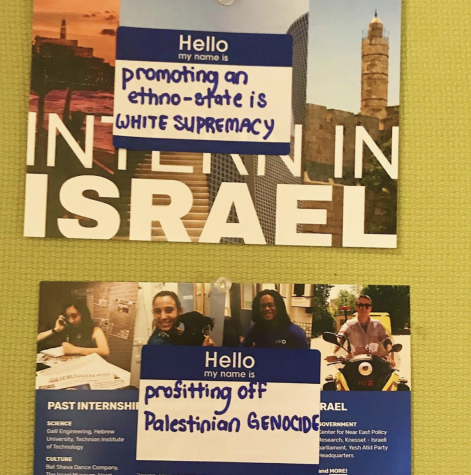 At the Student Multicultural Leadership Conference (SMLC), which took place Feb. 7 and 8, one of the workshops set to take place was an educational discussion about Palestine and Israel with Micheal Zank, a professor of religion and the Director of the Elie Wiesel Center for Judaic studies at Boston University. Noha Elmohands, the director of the Multicultural Center, sent an email saying that the topics of the workshop were going to be implicit bias, racism, and antisemitism vs. Zionism. The workshop was changed to 'Having Difficult Conversations.' Pixley, an English and communications double major who attended the conference, said the workshop took place at the end of the weekend and was repetitive because earlier workshops had covered similar topics.  
In the same email, Elmohands, hired in August of 2017, said of the conference, "We hope that by attending SMLC, you can become the just-leaders of tomorrow that future students will look up to and our society needs. " 
On Nov. 26, the Free Palestine group put up posters on the bulletin board that read "32 Palestinians killed in Israel's air campaign two weeks ago. Rest in power: 
-Ibrahim Aymon, Fathy Abdel Aal, 17 y/o
-Ismail Aymen Fathy Abdel Aal, 16 y/o
-Mahmoud Daham Mahmmoud Hathat 19 y/0
#FREE PALESTINE
"Israel shares weapons, intelligence, and military training with RIGHT-WING Latin american DICTATORS  and paramilitary DEATH SQUADS.  If celebrating Judaism means finding GENOCIDE, you're not practicing spirituality you're practicing WHITE SUPREMACY." 
Photos were taken and put on their Instagram account. 
On the Jan. 27, 2020, Hillel held a meeting about the incident. Eliot Stanton, a Junior Data Science major that attended the meeting- noted that students were hurt at being called "white supremacists"  and they were also hurt that students were talking about Zionism in the hallways but not coming in to talk to them directly. Debra Perez said that students in Hillel also expressed to her dismay that students were not talking directly to them about the issue. 
After these posters were put up, Public Safety was called by a student, who then contacted Student Affairs, according to Perez, Senior Vice President of Organizational Culture, Inclusion and Equity (OCIE).
On Nov. 27, a student involved with placing the posters received a letter from Student Affairs stating they had been accused of bias motivated conduct, harassment, hate speech and hate crimes. 
Debra Perez said that shortly before winter break, Hillel met with President Helen Drinan, and the Free Palestine group met with her. 
On Dec. 9, 2019, a formal conduct hearing took place. As soon as Carly Dickler, a junior associated with the Free Palestine group, heard that there was a conduct hearing, she asked if she could submit a letter of solidarity with the student accused, and sent around a second letter for Simmons students to sign. She revealed this information in an interview with Mackenzie Farkus, a senior and the Editor-in-Chief for the Simmons Voice. It has not been confirmed whether or not Student Affairs accepted either of the letters. 13 students who signed the letter showed up the morning of the conduct hearing in order to show support for the student. According to Pixely, one of the students at this hearing, Student Affairs said the conduct hearing was for everyone affected by the incident, but only let the student involved with placing the posters into the room along with one other student. So they staged a sit in at the Office of Student Affairs. 
On Dec. 12, 2019, Drinan sent an email on Nov. 27 to Simmons students and faculty referring to the incident with the subject line "Engaging with our Differences." She cited part of the Student Code of Conduct and called the Nov. 26 incident "hateful, anti-Semitic, and personally intimidating." 
A ruling made on the conduct hearing has not been made public. 
Members of Simmons Hillel declined an interview after a visit to their office, citing concerns of offending the community. 
Pixley, a sophomore who joined the Free Palestine group at the time of the conduct hearing, feels that Simmons is suppressing Palestinian advocacy. "We aren't cool with censorship of an entire side of a political discussion." 
Debra Perez expressed that an official Palestinian advocacy group would be welcome on campus. "It's not an Israel-Palestine issue," referring to the tensions on campus. "It's an anti-antisemitism, Islamophobia, and white-supremacy issue." 
According to Pixley, SJP (Students for Justice in Palestine) and BDS (Boycott, Divestment, Sanctions) groups have tried to start on campus before and failed. The administration keeps conflating Jewish and Muslim conflict with Israeli-Palestine conflict, according to Pixley.
Going forward, the Free Palestine group hopes to educate and spread awareness about Israel, Palestine, and Zionism, and to fight for justice for the Palestinian people, said Pixley.
Update, March 4: The Free Palestine group shared the following public statement on their Instagram.