McNamara a force to be reckoned with
If the name Lucy McNamara sounds familiar to you, it should. She's been named the GNAC Goalkeeper of the Week for Field Hockey for a fourth week and, to top it off, she reached a career high of 17 saves during one of those weeks. 
The junior goalkeeper started her field hockey career in the 8th grade when an injury prevented her from playing soccer that season. She fell in love with the sport, and continued to play throughout high school. When it came to the college decision process, Simmons wasn't on McNamara's radar until Coach Arpe reached out to her and got her on campus. "I was very interested in other schools for field hockey until I came and toured the Simmons campus, learned about the academics, and realized how cool it would be to go to school in the middle of Boston while also being able to play field hockey," recalled McNamara.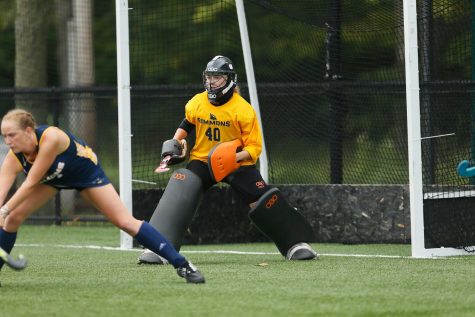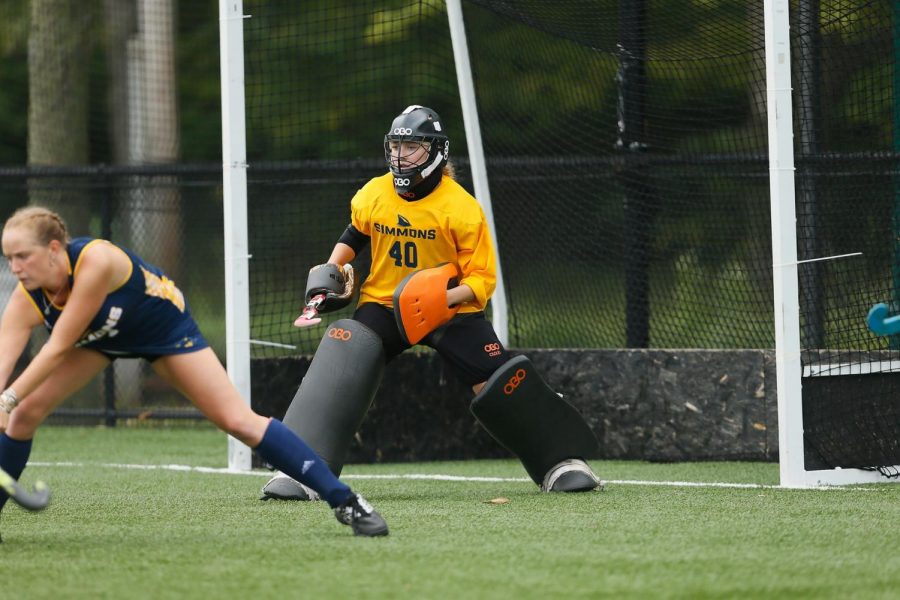 Since her decision to come to Simmons, McNamara has been named GNAC Goalkeeper of the Week four times, "becoming the first goalie in the conference to be tabbed four times since Maresa Malcolm from Regis College (Mass.) was tabbed four times in 2017." 
"It is definitely an extremely exciting feeling to see my name listed as Goalie of the Week for the league not only once but four times. It means a lot to me, but I also know that there is no way I would be able to achieve that accolade without my teammates pushing me every practice and making me better every day," said McNamara. 
During the October 1st match against Smith, McNamara also reached a career high 17 stops; a feat she didn't even know she'd accomplished until the bus ride home from the game. "I had no idea that I reached a career high saves while we were playing," said McNamara. "I found out after the fact on the bus ride home when one of my teammates showed me the article that listed the number of saves. It's definitely exciting, but the amount of saves that I make in a game isn't something that goes through my head while I'm playing"
McNamara emphasizes the importance of teamwork throughout her successes. She notes that her teammates are what  motivate her to work hard at practice day in and day out. "The team is a family and that is what makes the sprints, the long, hot practices and the early morning wake up calls all worth it."
"[McNamara] has taken total command of the defensive end this season," Coach Arpe said of her performance. "Her vocality, agility, competitiveness and speed in  the goal has made her a force to be reckoned with. From day one this season she has played with a calm, focused, determined, and confident mindset. She pushes herself and her teammates daily in practice and this is clearly paying off in games. She is an amazing team player who is always challenging herself and those around her to be better."
A Public Relations and Marketing Communications major, McNamara hopes to continue in athletics after graduation. She's looking to work for a professional sports team in the PR or Marketing department, or to travel with a charitable non-profit to raise awareness for the organization.